"Lauded by such publications as Newsweek and The New York Times, and by such institutions as the UN, Princeton's Jewish Center and the Hebrew Union College, Dr. Jud Newborn speaks with dramatic power and a deeply felt passion that leaves his audiences both moved and exhilarated." —LIFESTYLES MAGAZINE
JUD NEWBORN, PhD- a New York-based author, curator and dramatic multimedia lecturer - is an expert on anti-Semitism, extremism and the fight for democracy and human rights worldwide. He has been honored by the Anne Frank Center USA with the prestigious Spirit of Anne Frank Human Writes Award, the highest honor in his field. A pioneer in the creation of Holocaust museums, Dr. Newborn served as Founding Historian, curator and co-creator of New York's Museum of Jewish Heritage. Dr. Newborn has lectured and performed to acclaim at universities, religious institutions, conferences and other venues, ranging from San Diego's Old Globe Theatre and L.A.'s Simon Wiesenthal Center to the United Nations, and from Canada to Cape Town. (See lecture topics below.)

Dr. Newborn was awarded his PhD with Distinction by the University of Chicago, following three years of fieldwork in Europe as a Fulbright and Woodrow Wilson National Fellow. His now classic book, Sophie Scholl and the White Rose, provides an inspiring account of a handful of courageous German university students—two former fanatical Hitler Youth leaders—who became the greatest heroes of the German anti-Nazi resistance, and icons of "Civil Courage" in Germany today.

Acclaimed by such publications as The New York Times, Newsweek International, Library Journal, Ha'aretz, The Times of London, and by Nobel Laureate Elie Wiesel, the book was issued in 2018 in a 3rd, special 75th Anniversary Year edition (1943-2018). New endorsements attesting to its urgent relevance today, and that of Dr. Newborn's accompanying multimedia lecture program, have come from famed scholars, human rights activists, leading actors and major institutions. These include, among others, The Simon Wiesenthal Center, Norman Lear, Peter Yarrow, Prof. Deborah Lipstadt, Academy Award Winner Joel Grey (Cabaret), Alan Alda, Prof. William Shulman, Germany's White Rose Foundation, and Dr. Michael Berenbaum, the former Founding Director of the U.S. Holocaust Memorial Museum.


Dr. Newborn has written for numerous leading newspapers and magazines, including The New York Times and The Jerusalem Post. He has appeared as a consultant throughout the media, from the CBS Morning News, CNN and other networks to NPR's "All Things Considered." During an adventurous career, Dr. Newborn hunted down former Nazis and SS officers to interview. He also volunteered to work briefly undercover for Poland's "Solidarity" freedom movement six months into the Communist Declaration of Martial Rule and the sealing of Poland's borders. In July 1995, at the height of the Balkans Crisis, Dr. Newborn broke a decades-long barrier by giving the first lecture on the Holocaust ever held at the United Nations, during which he called out against the UN's abandonment of Bosnian Muslims to mass murder.

Today Jud Newborn is the Emmy Award-winning Producer of Special Guest Programs for Long Island's renowned Cinema Arts Centre, bringing in Nobel Laureates, Kennedy Center Honorees, and Academy Award, Tony, Emmy, Grammy and Pulitzer Prize winners to interview in special gala programs before live audiences.

View Dr. Newborn's biographical article, Man of Many Visions: Dr. Jud Newborn by Martin Boris, for LIFESTYLES MAGAZINE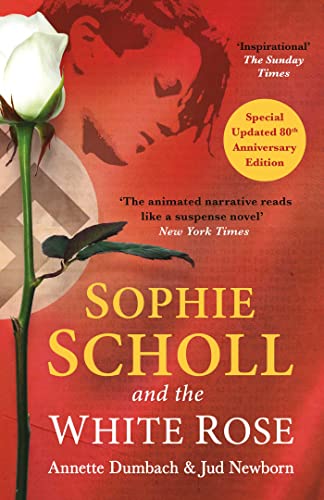 Sophie Scholl and the White Rose 
The Remarkable German
Students Who Defied Hitler
Special 75th Anniversary Year Edition (1943 - 2018)
Buy on Amazon
Startling New Research by Dr. Jud Newborn: "Solving Mysteries: The Secret of the White Rose"
MULTIMEDIA PROGRAM TITLES (FULL DESCRIPTIONS HERE)

1) SPEAKING TRUTH TO POWER: THE WHITE ROSE STUDENT ANTI-NAZI RESISTANCE – AND HEROES IN THE FIGHT FOR DEMOCRACY AND HUMAN RIGHTS TODAY.

2) LIONS OF JUDAH: THE COMPLETE, UNSUNG STORY OF JEWISH ANTI-NAZI RESISTANCE - AND ITS INDISPENSABLE LESSONS IN COURAGE FOR TODAY

3) TO LIFE! A MAGICAL, POST-MODERN HASIDIC TALE OF THE HOLOCAUST (How Poland's Martyred Jewish Bund Leader Saved My Life - And an Elegy to our Lost European Jewish Shtetl Culture. An Evening of Mystery and Revelation.)

4) INGRID PITT: BEYOND THE FOREST - FROM RESILIENT CHILD HOLOCAUST SURVIVOR TO ENIGMATIC FILM STAR (Program on the plight of children worldwide, surrounding screening of Dr. Newborn's award winning animated short film)

5) ADDITIONAL TOPICS FORTHCOMING

JUD NEWBORN, PhD: ARTICULATE MEDIA RESOURCE
Dr. Newborn, a historian, cultural anthropologist and human rights activist, is a lively, articulate resource with unique perspectives for TV, radio, print and internet media:
• The Holocaust, Anti-Semitism & Politics Today
• Human Rights, Dissent, Threats to Democracy
• History, Film, Popular Culture, Sexual Politics
• The Israeli/Palestinian Conflict, Fundamentalism
Media Credentials
SPEAKING TRUTH TO POWER
Bring the "Speaking Truth to Power" Multimedia Lecture Program to Your Campus & Community